Los aceros inoxidables el tipo DUPLEX y SUPERDUPLEX son ferríticos-austeníticos (50%-50%) con un balance de Cr-Ni-Mo-N que se caracterizan por su alta resistencia mecánica y excelente comportamiento a la corrosión ante cloruros y al agrietamiento por corrosión bajo tensión (CSCC). Son magnéticos y su coeficiente de expansión térmica es menor a la de los aceros austeníticos, generando menores tensiones y favoreciendo su uso en variados procesos, mejorando la vida en servicio de los equipos. En la soldadura de los aceros DUPLEX y SUPERDUPLEX se recomienda bajo aporte térmico, de modo general no es necesario realizar tratamientos térmicos ni antes ni después del soldeo y se deben mantener temperaturas entre pasadas no mayores de 150°C según espesores.
Muy a tener en cuenta, es la velocidad de enfriamiento post soldadura ya que hacerlo de manera muy rápida inducirá a incrementar el contenido de ferrita y poder llegar a la pérdida del equilibrio con la austenita, mientras que con enfriamientos lentos en el entorno de los 900°C (2-3 minutos) puede haber formación de la temida fase sigma. Para la soldadura disimilar entre un acero austenítico (serie 300) y un DUPLEX o SUPERDUPLEX se recomienda el uso de AISI 309LMo, mientras que para la unión entre acero al carbono y DUPLEX o SUPERDUPLEX lo aconsejable sería un AISI 309L o 309LMo. Poseen buena soldabilidad y son mecanizables. El acero DUPLEX más usado y común como material base es el 2205 que se corresponde con 2209 como metal de aporte, su composición química típica es 23% Cr 3% Mo, 8% Ni, 0.15% N y PREn > 35.
Dentro de los aceros SUPERDUPLEX el más generalizado es el material base 2507 que se suelda con aporte 2594 o 2595 con composición química típica 25% Cr 4% Mo, 9% Ni, 0,25% N y PREn > 40. Su uso debe ser limitado a las aplicaciones con temperaturas inferiores a 600°F (316°C).
DUPLEX and SUPERDUPLEX type stainless steels are ferritic-austenitic (50% -50%) with a balance of Cr-Ni-Mo-N that are characterized by their high mechanical resistance and excellent behavior to corrosion against chlorides and cracking by stress corrosion cracking (CSCC). They are magnetic and their coefficient of thermal expansion is lower than that of austenitic steels, generating lower stresses and favoring their use in various processes, improving the service life of the equipment. In the welding of DUPLEX and SUPERDUPLEX steels, low heat input is recommended; in general, it is not necessary to carry out heat treatments either before or after welding and temperatures between passes should not exceed 150°C according to thickness. Very important to take into account is the post-weld cooling rate since doing so very quickly will induce an increase in the ferrite content and be able to reach a loss of equilibrium with austenite, while with slow cooling in the 900°C (2-3 minutes) there may be formation of the dreaded sigma phase. For dissimilar welding between an austenitic steel (series 300) and a DUPLEX or SUPERDUPLEX, the use of AISI 309LMo is recommended, while for the union between carbon steel and DUPLEX or SUPERDUPLEX it would be advisable to use AISI 309L or 309LMo. They have good weldability and are machinable. The most used and common DUPLEX steel as base material is 2205, which corresponds to 2209 as filler metal, its typical chemical composition is 23% Cr 3% Mo, 8% Ni, 0.15% N and PREn> 35. Within the SUPERDUPLEX steels the most common is the base material 2507 that is welded with filler material 2594 or 2595 with a typical chemical composition 25% Cr 4% Mo, 9% Ni, 0.25% N and PREn> 40. Its use should be limited to applications with temperatures below 600°F (316°C).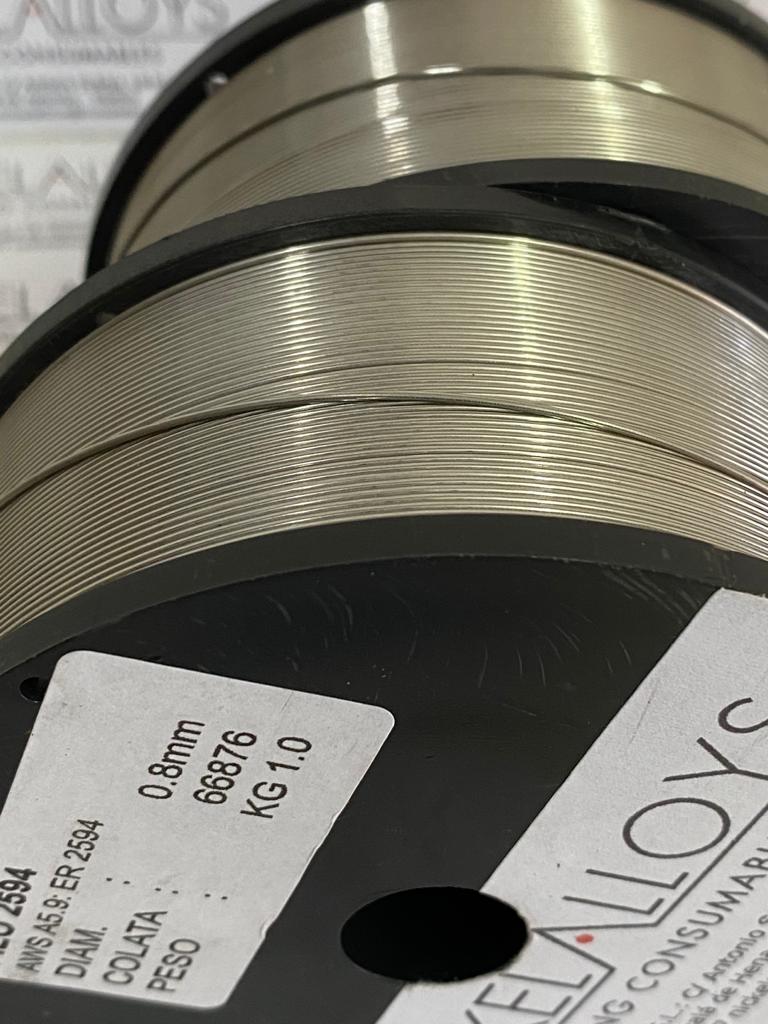 Tipos de aleaciones de Duplex-superduplex